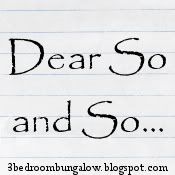 Dear Friday,
*sings, awful* Have I told you lately I that love you? *knocks it off before you leave* I do. I neglected your awesomeness over the summer, but no more.
I LOVE YOU, FRIDAY!
And let's not forget your awesome cousin, Saturday. Love ya too. ;) I'm two timing you both. Forgive me?
(Sunday is a pain in the ass, because I'm a procrastinator extraordinaire. I DID do some 40+ math problems, but I STILL HAVE 20-ish more math problems and a timeline of the Stone Age to start... *sigh*)
WHOA.
Where'd that negativity come from? IT'S FRIDAY!
THANK YOU GOD IT IS FRIDAY!!! WOOOO!
(Can you tell I'm unreasonably happy? I am. I don't care. This has been the LONGEST WEEK OF MY (albeit short-ish) LIFE.)
Laying off the caps to say: xoxoxoxoxoxxxx
Your biggest fan,
Me.
Dear Monday:
Please do the world a favor and fuck off, 'kay?
Thank you,
Me.
FPATEOTP!:
Aww dammit. It's supposed to say, "Tramp.", but it got cut off.
Me having to explain that makes it no longer funny, doesn't it? Oh well. Just so's ya know. :)
If you've read this far, Happy Friday!