It's been a while since I've done this, so let's get on with it: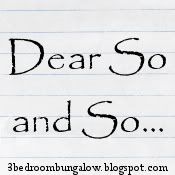 Dear Trains:
WHAT do you have against us?
Every. Single. Friggin. Friday. At least 3 freight trains. Today it was five. Half an hour sitting on a bus with around 70 homecoming-crazed students and no open windows. I had to pee on top of all that. TORTURE.
-- Rena
Dear Allthathomecomingcrap:
Hmm. I guess I owe you an apology. The "pep rally" was actually fun. More screaming than pep, but fun nonetheless. Much dancing. You stole the "football players doing the Single Ladies dance" thing from Glee. Plagiarists. I don't care anymore. It was so tacky it was funny. As was the Thriller dance. That was pretty darn awesome. Needed better costumes. Why the sentence fragments?
Dear Brits,
I loveyouIhateyouIloveyouIhateyou I LOVE YOU.
Ye, who hath invented Fish & Chips, and talking liketh this. Because of your delicious fried concoction, I hath burned my tongue so severely I can barely chew. Yes, I zealously stuck an entire "chip" into my mouth seconds after coming out of hot oil, but responsibility for your own *stupid* actions is so un-American. Always blame someone else. In this case, that's you. Sorry, delicious people.
Lovingly, painfully,
Rena
Dear blog,
Sorry for neglecting you. Currently I'm seriously distracted. I should go to bed or do something productive. Oh well. Forming odd short sentences. Whoooooo!
FIPOGI!
(I love Photoshop. Or whoever made this. Or the trainer of this cat.)